If your business deals with physical products, chances are you will be heading to the post-office pretty frequently. That is a lot of time spent, on top of transportation fees and the mandatory courier fees. The costs may not seem much at first; but when accumulated, you know you could do better things with the time and money spent for fulfillment.
Thankfully, technology has made things easier-save the delivery process some hassle with a ONE-STOP DELIVERY SOLUTION!
If you are wondering what a one-stop delivery solution is, it means you can handle the delivery process from A-Z via the same provider.
The traditional delivery process requires you to dress up, head to the post office with the parcels, fill in the consignment note, and wait for your turn before handing the parcels over the counter.
In sharp contrast, a one-stop delivery solution such as Shippop combines all the delivery functions in a single convenient interface. It will allow you to compare prices of multiple courier services, pay online, print labels instantly and enjoy door-to-door pickup of parcels right from your doorstep!
Here are 5 solid reasons why a one-stop delivery solution is your business' new must-have:
Competitive Prices
Cost effectiveness is crucial to get the most value for money in all aspects of business, including delivery. Manual comparison of prices from different courier services is undoubtedly a major hassle. A one-stop delivery solution will allow a quick glance of all prices to get the best delivery deal in town. With price comparison across multiple courier services (DHL, PosLaju, NinjaVan, Nationwide Express and more), pick the most affordable courier service which offers the features that you need.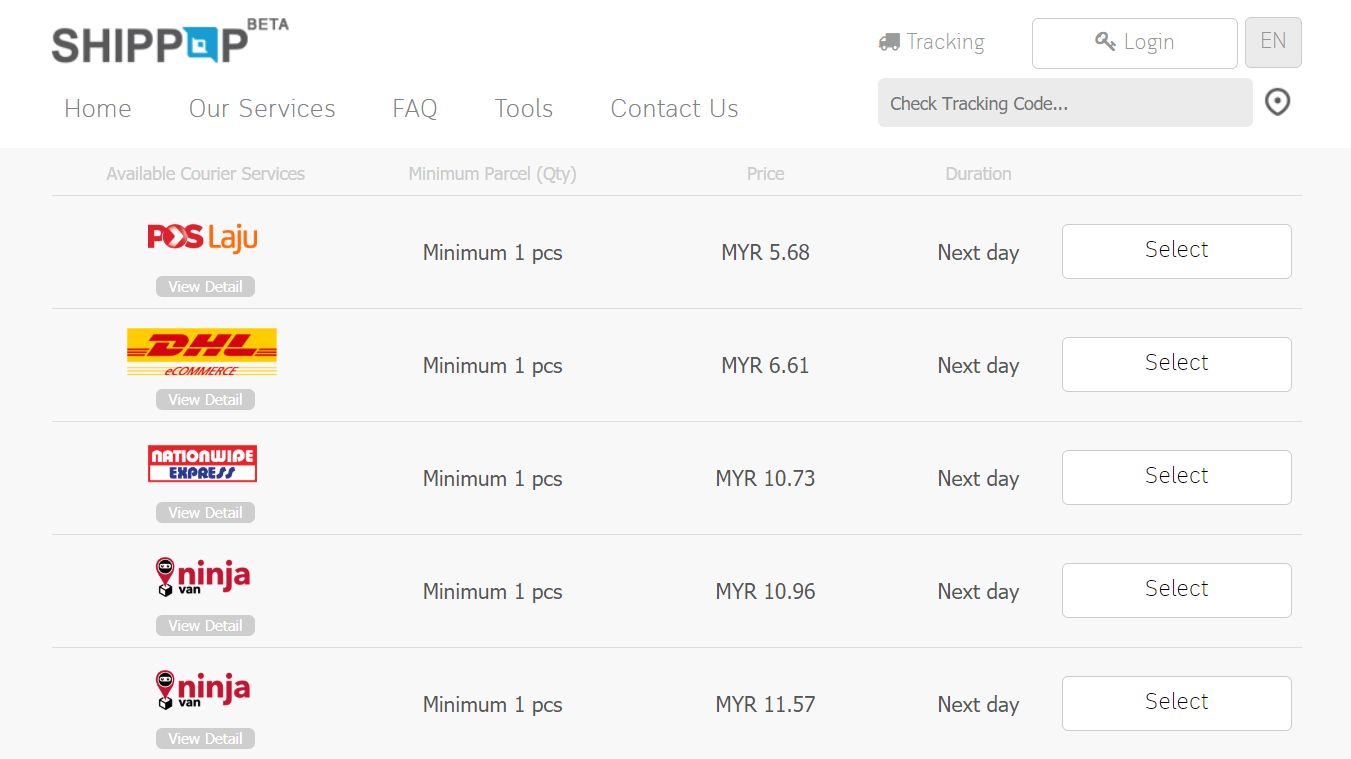 Door-to-door Pickups
Dread driving to the post office and back? Bid goodbye to the inconvenience and save on transportation costs with a one-stop delivery solution. The courier lorry will pick up all your parcels from your doorstep. Just pass the parcels to the courier lorry and the parcels will be on their way to customers in no time.
Pay Online Conveniently
Online payment has powered the e-commerce industry for both business owners and consumers alike. Take advantage of this form of payment and settle courier fees online without worrying about withdrawing money periodically for petty cash. Besides that, it is also easier to track transactions for accurate bookkeeping.
Print Labels Instantly
Accurate manual filling of courier forms requires labor, time and focus. With a one-stop delivery solution, information collected from the online purchase will be transferred directly to the labels via synchronization. This means zero risk of putting wrong information on labels or the deliverer misreading information due to illegible handwriting. All you need to do is synchronize information, print the labels and attach them to the parcels.
Track Shipments in Real Time
Post-delivery tracking of shipments is a huge inconvenience. Imagine typing in one tracking number after another just to obtain updates on the shipments! A one-stop delivery solution will take the pain off tracking shipments by real-time tracking on a single platform. It is much easier to determine the delivery status of parcels and to take necessary action of recovering parcels if required.
Interested to incorporate a one-stop delivery solution for your business? We have great news for SiteGiant merchants! SiteGiant has collaborated with Shippop, a one-stop delivery solution provider committed to serve the delivery needs of businesses. The Sitegiant Shippop Sync allows the integration of multiple courier and logistic providers (Aramex, DHL, PosLaju, NinjaVan, Nationwide Express and more) for e-commerce merchants. Send domestic and international parcels through a single interface, simplifying the delivery process so you can focus on other aspects of your business.
Why many ecommerce merchants are using Shippop as their delivery solution
Competitive prices
Special deals and promotions
User-friendly interface
Pay online
Print labels instantly
Track shipment
Batch Upload
Door-to-door pickups
Supported by major courier services
Sources
https://www.sitegiant.my/one-stop-delivery-solution-shippop-ecommerce/